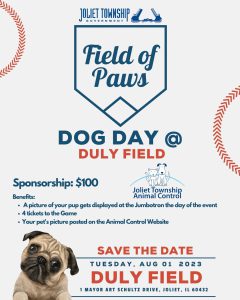 Join us on August 1st to enjoy a Slammer's game with your pet!
WHERE: 1 Mayor Art Shultz Drive, Joliet, IL 60432 (Joliet Slammer's Stadium)
All pets are welcome as long as they are on a leash or in a carrier. Also, please consider being a sponsor to help raise funds for our shelter animal enrichment!
Joliet Animal Control Supporter Package, $100.00. 
Please pay through the JTAC PayPal account- https://www.paypal.com/donate/?hosted_button_id=SZ4UCNZBB2VSA. 
Joliet Animal Control Supporter Package Benefits:
A picture of your pet gets displayed as a sponsor on the Jumbotron on the day of the event.

 4 tickets to the game

Your pet's picture gets posted on the Animal Control website.